Introduction - Researching the Secrets of "Zen Shakuhachi", "Fuke Shakuhachi" & "Shakuhachi Zen" ...
Who were the komusō, 虚無僧, the "Monks of Non-Duality *) & No-one-ness" **) and their predecessors, the komosō, 薦僧, the "Mat Monks"?
( *) or, Non-Substantiality - **) or, Egolessness)
The fantastic, fairytale-like flute with the forged faith and the fundamentally falsified philosophy ... ?
What do the many surviving written Japanese source documents and plentiful pictorial evidence de facto clarify to us about early "Komusō Shakuhachi" and "Zen Shakuhachi" history and ideology - in particular?

That is what these "Zen Shakuhachi Truth Research Web Pages" are all about.

Please enjoy ☺ All the Best -
Torsten 無穴笛 Olafsson - Elsinore, Denmark - 2017
---
---
Recent Update
You are now welcome to study a full English translation of the mysterious komusō document commonly referred to as the "Empō 5 Edict", dated January 11, 1678 (not 1677-12-18!).

Link to the webpage: "The 1678 Komusō-ha Oboe"


---
Significant International Collaborations☺
Ms. Kiku Day who is now a longtime permanent resident of beautiful rural Mid-Western Denmark has been a dear snd deeply respected friend of mine for many years.

With her superb PhD degree in Ethnomusicology from SOAS in London, Kiku took the courageous steps and necessary initiatives to establish the European Shakuhachi Society while still acting prominently in the capacity as that very important community's most energetically event-making, inspirational chairperson.





Read much more here on Kiku's personal homepage




---



In 2003, Mr. Monty H. Levenson of Tai Hai Shakuhachi in Willits, N. California, USA, generously printed and published my Kaidō honsoku,
海道本則, MA thesis (1987) - still available from www.shakuhachi.com.

You may click in the photos to study a presentation of the publication:




I am also the happy and grateful owner of several exquisite professional shakuhachi flutes of Monty H. Levenson's making ☺


---



Mr. Ronald Nelson, president of the International Shakuhachi Society (ISS, at www.komuso.com) has supplied to me both numerous scannings of essential rare Japanese texts and, not least, most valuable photos of his taken in the "Komusō Room" of the Matsudo City Museum in NW Chiba and at the Tokyo National Museum.

Please do visit the outstanding art photographer's no less than breathtakingly amazing picture website and appreciate his numerous photos from the trips of his all over East and South Asia - and elsewhere:





Link to the "Ronald Nelson Photography" homepage

Photo: Japanese tōrii gate. Source: Ronald Nelson's personal Facebook page.





---



Mr. Kishi Kiyokazu, 貴志清一, Japan, has contributed prominently with so far two very important historical Fuke Shakuhachi texts/documents generously made readable here in modern Japanese, transcribed from the Kanbun and classical Japanese originals, respectively.





Kishi Kiyokazu


You are welcome to visit Mr. Kishi's comprehensive Japanese website via this link:

Link to 尺八吹奏研究会HP - The Shakuhachi Performance Research Society HomePage edited by Kishi Kiyokazu

Links to recent 2016 updates on the homepage can be found page bottom on this newly updated web page:

Link to The January 11, 1678 Komusō-ha Oboe-gaki webpage

Kishi Kiyokazu's fine work on Hisamatsu Fuyō's Hitori mondō dated 1823 can be appreciated here:

Link to the 1823 Hitori mondō webpage



---







Click here to link to the European Shakuhachi Society's official homepage

ESS 10 YEAR ANNIVERSARY in 2017: ESS Shakuhachi Summer School in Vejle, Mid-Western Denmark ☺



---
---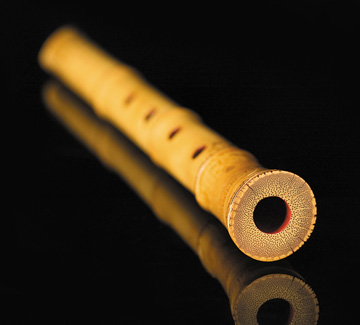 1.8 Myōan Taizan-ha shakuhachi made by Ozawa Seizan, 1939-2012



"Mukuteki suizen"

Signed by
Myōan Taizan
(No date)